Black Friday Traveler - Exploratory Reverb
Regular price
$129.99 USD
Regular price
Sale price
$129.99 USD
Unit price
per
Sale
Sold out
Introducing "The Traveler" - the ultimate reverb pedal for any musician. This compact and versatile pedal packs a punch with its three unique algorithms: Mod, Shimmer, and Vintage, giving you endless creative possibilities for your sound.
Share
View full details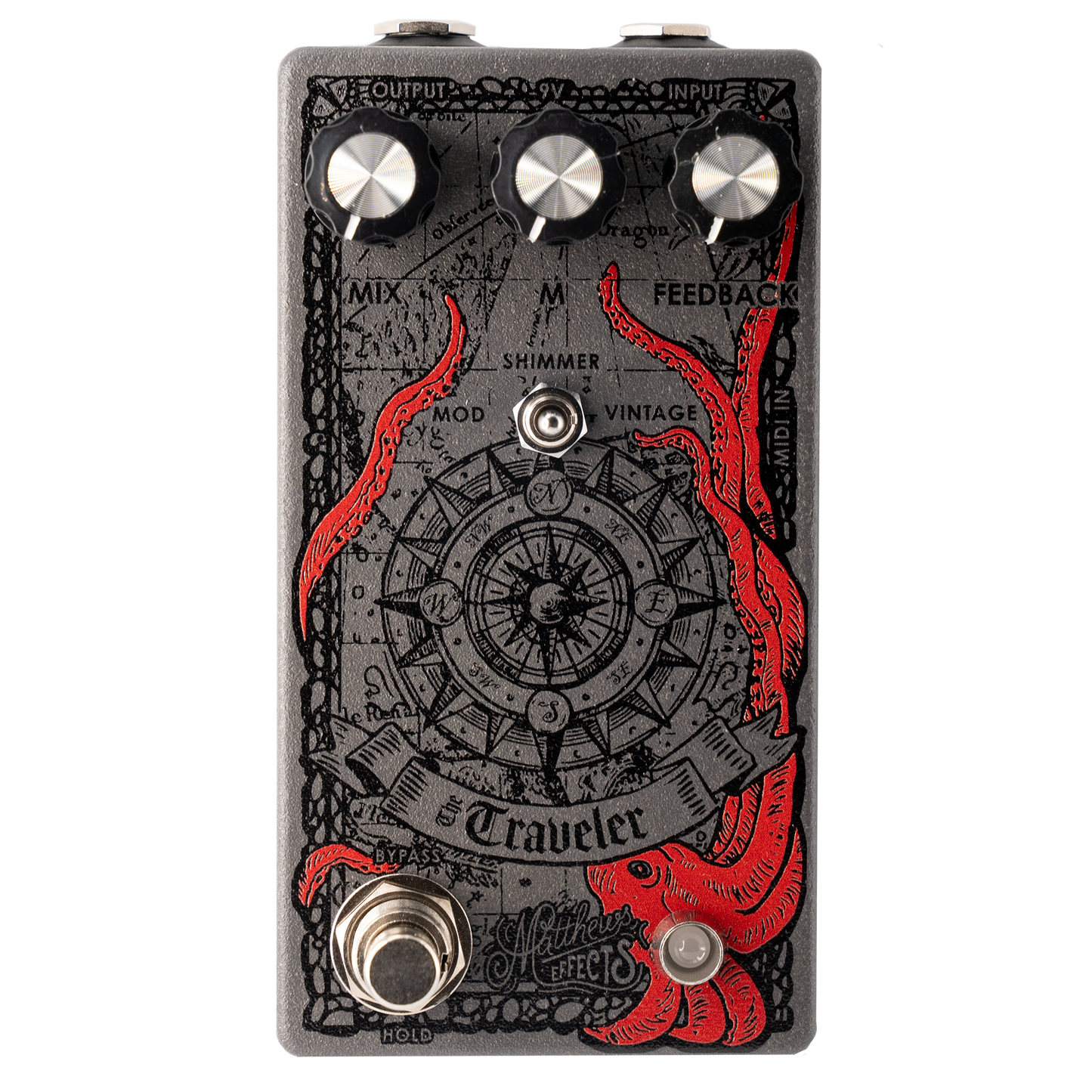 What Customers are Saying
The Astronomer

This very well-built and compact unit features myriad shades of ambience with the additional ability to control the "travel" of the reverb tail via expression pedal. It also features noiseless switches, which is something I prefer.

There's nothing here but greatness.
By Brandon Parr

The Architect

This pedal has quickly become a favorite with the ability to find great tone with the individual channels or running them both and swapping orders. Pro tip: running the Architect into this bad boy = face melt.

The Futurist

I use it to control my effects on my pedalboard. It is easy to program and responds great! The best I could find…. You can't go wrong!

The Whaler

Great sounding fuzz with a wide range. Nice to see something original that isn't just a recreation of a vintage pedal.

By Neal

The Chemist

What a great addition to my pedal board.
It"s actually two pedals in one ! So far I"ve settled in for the chorus and phaser.
The Matthews Effects Knowledge center
MIDI can feel really intimidating. Let me walk you through how easy it is!    Its best to think of MIDI as a password, a secret handshake. Its a way...

MIDI can feel really intimidating. Let me walk you through how easy it is!    Its best to think of MIDI as a password, a secret handshake. Its a way...
Unique Design

From the initial idea to the Schematic and mechanical engineering, we always push ourselves to try new things, find new solutions, and explore uncommon approaches.

Quality Crafted

Every one of our products is put togheter by hand in our studio, with the utmost care and attention. We're proud of the quality and service we provide to every customer.
Made to Inspire

Matthews Effects is a boutique guitar pedal company founded in 2014 by Rick Matthews. A lifelong musician, Rick was inspired to start the company after seeing opportunities to innovate on what was currently available in the market. He saw an opportunity to create pedals that not only sounded great, but were also aesthetically pleasing and built to last.

Under Rick's leadership, Matthews Effects has become known for its innovative designs and exceptional craftsmanship. The company's pedals are used by professional musicians all over the world, and have gained a loyal following among guitarists and bassists alike.

In addition to its popular line of pedals, Matthews Effects also offers custom builds and modifications for players looking for something truly unique. Rick and his team are passionate about helping musicians achieve their perfect tone, and are dedicated to providing excellent customer service and support.

Whether you're a touring musician or a bedroom player, Matthews Effects has something for everyone. From classic overdrive and fuzz sounds to more experimental effects, Rick and his team have created a range of pedals that will take your playing to new heights.