Matthews Effects
Regular price
$199.99 USD
Regular price
Sale price
$199.99 USD
Unit price
per
Sale
Sold out
Introducing the Astronomer Reverb by Matthews Effects, the ultimate pedal for adding depth and dimension to your guitar playing. With its versatile controls and high-quality sound, the Astronomer Reverb is the perfect addition to any guitar rig.
Share
View full details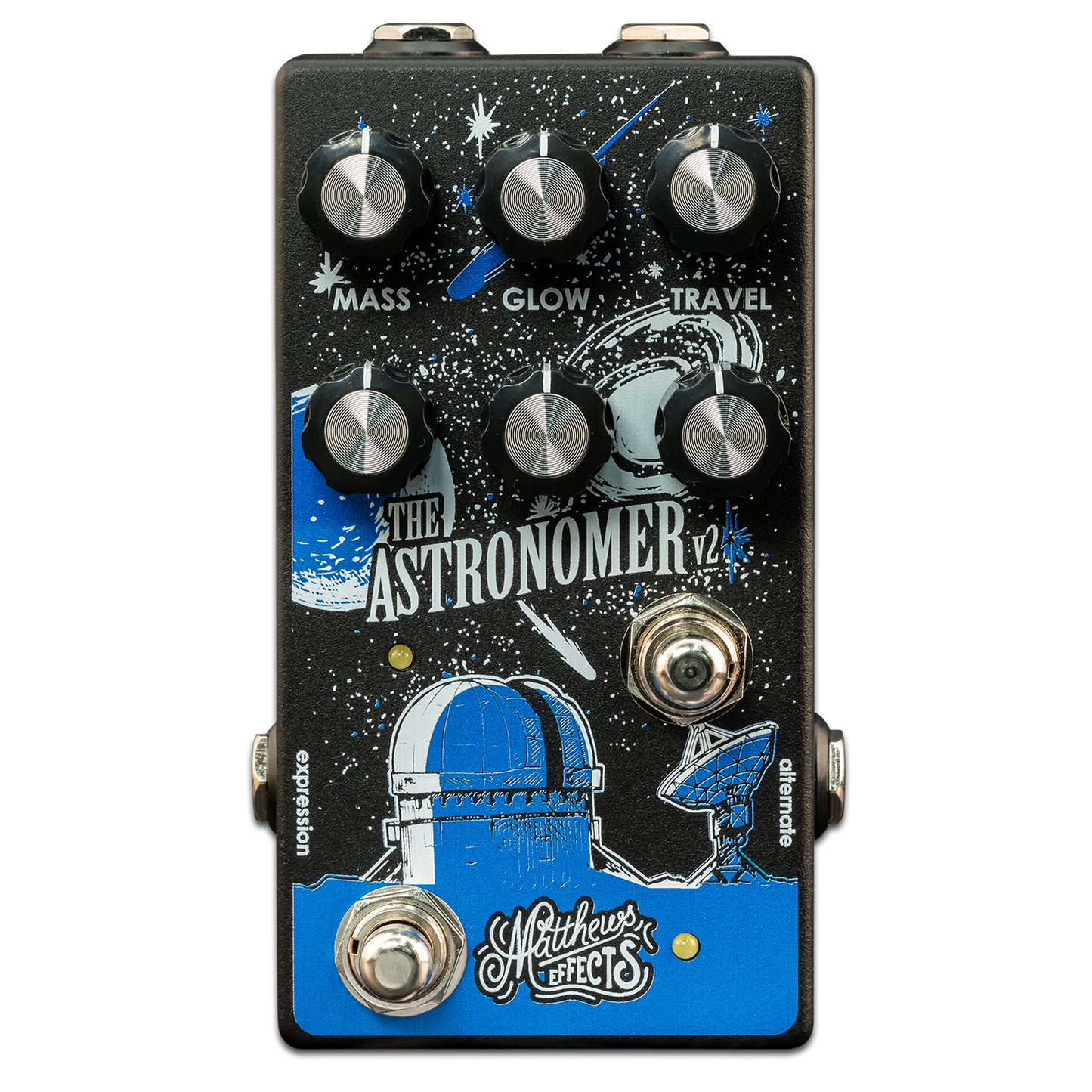 Highlights

Two independent reverbs in one

Each of the Astronomer V2's three original ambience algorithms can be assigned to and controlled from its two 3-knob control rows. So whether you want instant access to two entirely different textures — say, a dark hall or a bright angelic shimmer — or two different voicings for the same algorithm, Matthews Effects puts you in the observer's chair of this versatile pedal. Choose between:

Canis Major — This echo-verb is custom-built for drones, swells, and atmosphere building. The Glow control brings up boatloads of angelic upper-octave shimmer effects.
Orion — In what Matthews Effects describes as the quintessential hall reverb, the Orion algorithm unleashes infinite halls of untold sizes. As with Canis Major, the Glow control makes it possible to enrich reverbs with a gorgeous shimmery tail.

UNIQUE FEATURES

Tails/hard-cut bypass

Whether you're the type of player who likes your reverbs cut clean when you disable the pedal or the type who prefers your tails to linger after you step on the kill switch, the Matthews Effects Astronomer V2 has you covered. Hold both switches for 10 seconds to toggle bypass modes. Easy peasy.

1/4" expression and alternate inputs

The Astronomer V2 from Sweetwater gives you two additional options for getting the most out of your pedal. The 1/4" expression pedal input offers hands-free control of the Travel (decay) function of the second row of knobs for dynamic space control. Additionally, a 1/4" alternate output allows you to access the Astronomer V2's FX toggle switch via remote switch anywhere on your pedalboard. Expression pedal and external switch sold separately.

Technical

Mono

Top Mounted Input And Output Jacks

9VDC Center Negative 100MA

2.5 X 4.5 X 1.5
Control Summary

MASS

Allows you to sweep from 100% DRY to 100% WET

GLOW

The amount of shimmer

TRAVEL

The feedback of the reverb

BYPASS

Press the lower footswitch to turn the pedal on/off.

Alt Switch

The "Upper" footswitch lets you toggle between the top row and bottom row.

Alternate Jack

This jack lets you control the "Alt" feature remotely with a TRS footswitch.

Expression

Plug in a expression pedal to control the "Travel" of the lower row of knobs.