Matthews Effects
Regular price
$129.99 USD
Regular price
Sale price
$129.99 USD
Unit price
per
Sale
Sold out
Introducing "The Traveler" - the ultimate reverb pedal for any musician. This compact and versatile pedal packs a punch with its three unique algorithms: Mod, Shimmer, and Vintage, giving you endless creative possibilities for your sound.

The three knobs, Mix, M, and Feedback, allow you to customize your tone with ease. Use the Mix knob to blend your wet signal in, adjust the M knob to control a different unique feature on each algorithm, and the Feedback knob to control how long the reverb is. With "The Traveler", you can create anything from subtle reverb textures to full-blown sonic landscapes.

"The Traveler" also features MIDI capabilities, allowing you to control your presets, algorithms and features remotely. By holding the "Bypass/Hold" switch you activate the 'Hold" function which instantly jumps the feedback control to its max setting and then returns it to its previous place once the switch is released.

The six preset slots make it easy to switch between your favorite sounds, while the compact size makes it the perfect companion for gigging musicians. Whether you're playing in a small club or a large stadium, "The Traveler" will deliver the perfect tone every time.

"The Traveler" is the ideal guitar pedal for any musician looking for a compact, versatile, and high-quality effect. With its three unique algorithms, MIDI capabilities, Hold function, and six preset slots, you will explore new sonic landscapes with 'The Traveler' - your ultimate musical companion
Share
View full details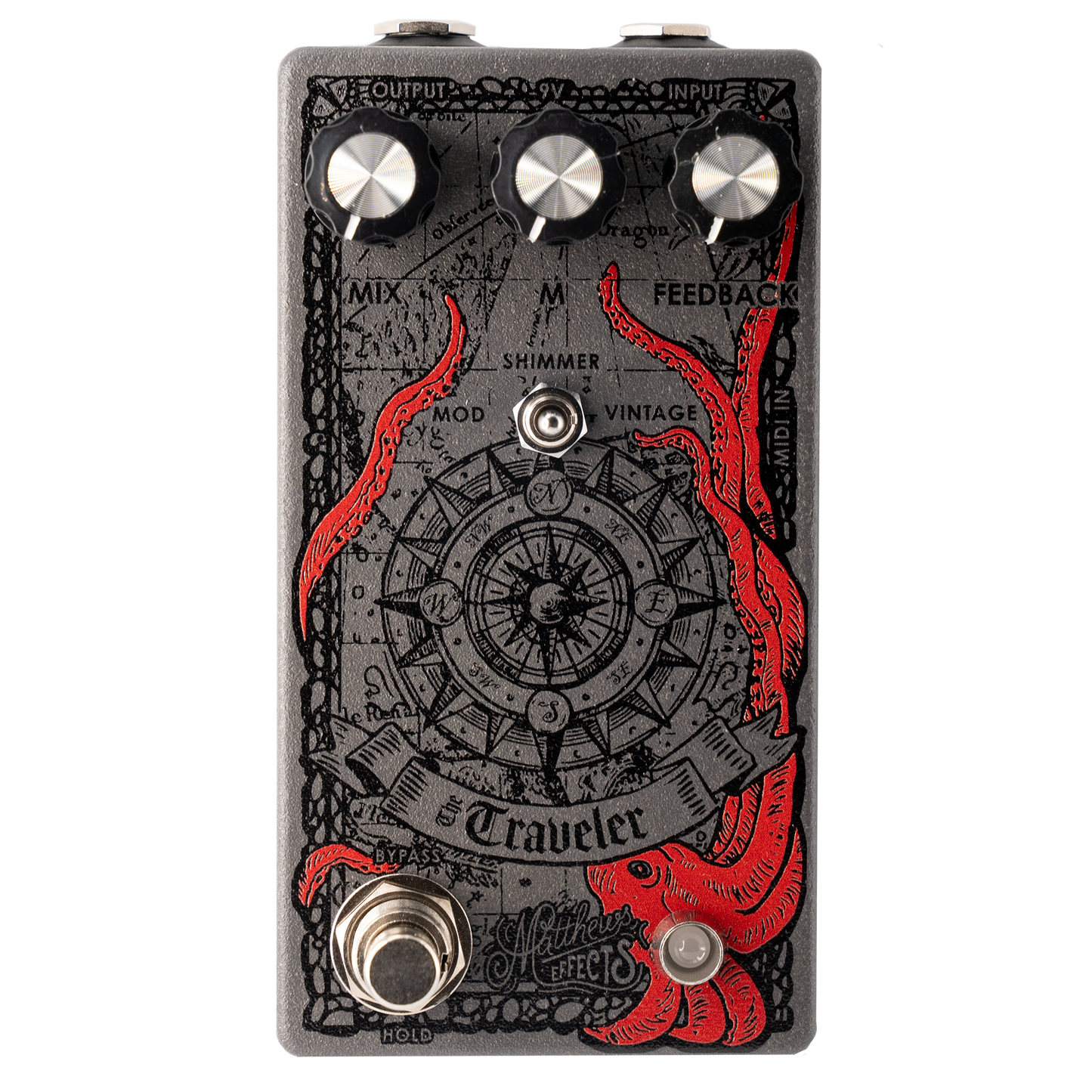 Highlights

MIDI CONTROL OVER EVERYTHING!

The Traveler can receive MIDI over 3.5mm TRS. Use MIDI to control all its features and parameters

CREATE PRESETS!

The Traveler is designed to operate as a traditional 3 knob pedal if you dont want to create presets and use MIDI but it also has a total of 6 presets you can access via PC MIDI. If there are no saved presets the pedal will load the current position of the knobs but once a preset has been saved the pedal will auto load preset 1 on boot up. 

HOLD

By holding the footswitch down the Traveler will max the "Feedback" knob and when you release it the pedal returns to its previous state. This is great for creating temporary pads or accenting certain notes.

MIDI EXPRESSION

Although the pedal does not have a direct Expression jack input you have full control over all 3 knobs via MIDI CC messages. Use a expression pedal in conjunction with a midi controller, like the futurist, to give you expression control. Dynamically swell in shimmer or adjust the mix. The possabilities are endless.

Algorithms

The Traveler offers a deep set of features to bring you the most value to your pedalboard.

MODULATION

The modulation mode is inspired by the original "Cosmonaut" modulation pedal that gives you the option of 100% dry - 100% wet with the mix control and the "M" control lets you dial modulation into the reverb.

SHIMMER

The Shimmer mode is inspired by the original Astronomer shimmer algorithm. With this mode you get control over the mix of the reverb and the "M" control lets you dial in the amount of shimmer into the reverb.

VINTAGE

"Vintage" mode is inspired by vintage tube spring reverb units. The "Mix" knob gives you control over the mix of the reverb and the "M" control gives you a Low Pass Filter over the reverb.

Technical

Mono

True Bypass

Top Mounted Input And Output Jacks

9VDC Center Negative 120MA

2.67 X 4.77 X 1.55
Control Summary

Mix - Controls the mix of the reverb. On the "Modulation" mode you get control over the dry as well.

M : Control changes per algorithm

Mod - Amount of the modulation
Shimmer - Amount of the shimmer
Vintage - LPF for the reverb

Feedback - Control's the feedback of the reverb and how long the reverb lasts.