Matthews Effects
Regular price
$229.99 USD
Regular price
Sale price
$229.99 USD
Unit price
per
Sale
Sold out
The Futurist is a unique, compact MIDI controller pedal that pioneers a better way of experiencing MIDI. Built on the core ambitions to make MIDI easier, more accessible, and to provide strong features! The Futurist is not limited to controlling MIDI though! Analog equipment can be controlled by virtual analog control outputs integrated into the device. With expandability and versatility in mind, an expression pedal can be used to send MIDI expression, or 3 additional footswitches can be added to expand The Futurist's capabilities from 4 switches to 7. Download the "Matthews Effects Editor" software to update The Futurist's firmware, organize presets and create new ones using the custom "Smart Editor" wizard that makes creating MIDI messages a breeze. Whether programming it from a computer or making some last-minute edits before a show, we want you to have the best MIDI experience possible. We welcome you to a new world of endless possibilities, The Futurist is here.
 
Read our article on MIDI!
Share
View full details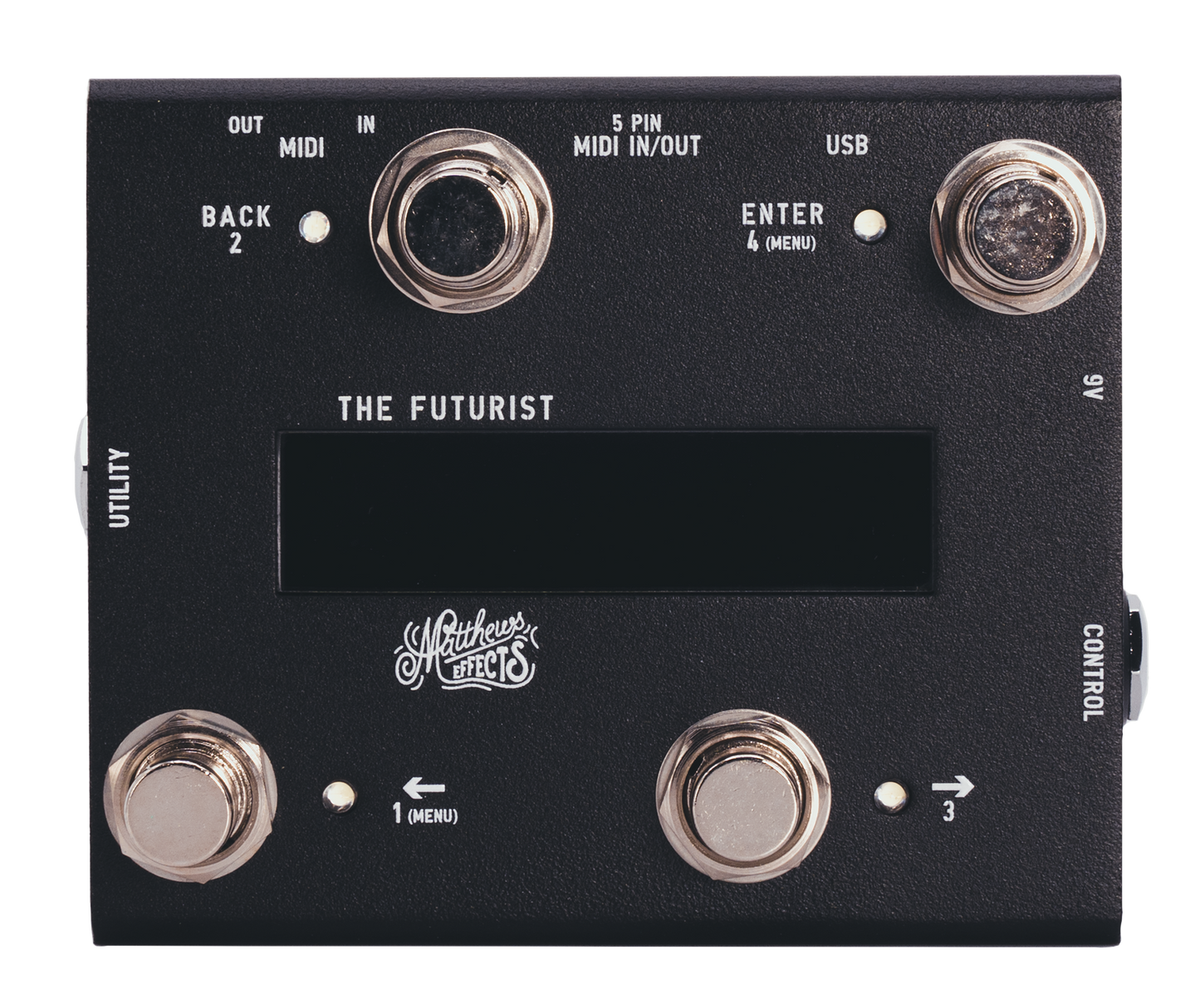 Highlights

CONTROL ANYTHING MIDI

The futurist can send any kind of MIDI message allowing you control of anything that has MIDI!

16 MESSAGES PER PRESET

Send a total of 16 MIDI messages per preset on any MIDI channel!

PLENTY OF PRESETS!

The Futurist has 210 total presets organized into 30 banks of 7 !

PROGRAMABLE FOOTSWITCHES

Program each footswitch to be a preset, tap, bank up, bank down, preset up, and preset down. Customize your Futurist to meet your needs!

MIDI CLOCK

The Futurist can generate its own MIDI clock or pass along MIDI clock from an outside source!

MESSAGE TRIGGERS

The Futurist supports Press, Release, Long Press, Long Release, Toggle On and Toggle Off as message triggers

Connections

USB

Midi communication over USB, manage presets and update firmware (with Matthews Effects Editor), and power The Futurist.

3.5MM TRS MIDI IN/OUT

connect directly to devices that use a TRS connection for MIDI and can be used with adapters to connect to ¼ inch MIDI connections.

5 PIN MIDI IN

Connect to devices that use the traditional 5 pin midi connector.

UTILITY JACK

Configurable to send analog tap tempo signals or as a latching or momentary switch.

CONTROL JACK

Plug in an expression pedal to dynamically send Control Change messages over MIDI or configure the jack to accept 3 additional switches to expand the functionality of the futurist. 

Technical

HIGH-GRADE COMPONENTS SELECTED FOR THEIR SUPERIOR QUALITY
3.5MM, TRADITIONAL 5 PIN AND USB MIDI CONNECTIONS
UTILITY JACK LETS YOU SEND ANALOG TAP OR SWITCH SIGNALS
CONTROL JACK LETS YOU USE EXPRESSION OR ADD 3 ADDITIONAL SWITCHES
FOOT-SWITCH'S DESIGNED TO LAST AGAINST THE ABUSE OF THE ROAD
Control Summary

LEDS

Indicates which patch was selected last or will display the tap BPM.

SWITCH 1

Activates the first patch of each bank, Bank Down (when pressed in conjunction with Switch 3) or open Main Settings Menu (when pressed in conjunction with Switch 4). When inside menus, Switch 1 will scroll/move you left or decrease your menu selection.  

SWITCH 2

Activates the second patch of each bank, Bank Up (when pressed in conjunction with Switch 4) When inside menus, Switch 2 will cancel the selection, move back to previous menu, or exit to home screen if in the main menu.

SWITCH 3

Activates the third patch of each bank. When inside menus, Switch 3 will move you right or increase your menu selection.

SWITCH 4

Activates the fourth patch of each bank. When inside menus, Switch 4 is used to enter different menus or confirm values/options.

Computer Editor

The Matthews Effects Editor allows you to manage presets,update firmware and improve the control ability of your Matthews Effects products from the ease of your Mac or PC!


CAN'T OPEN ON MAC
YOU CAN OVERRIDE YOUR SECURITY SETTINGS AND ALLOW THE APP TO INSTALL AND OPEN.
Open Finder.
Locate the Editor app
Control+Click the app.
Select Open.
Click Open.
The app should be saved as an exception in your security settings, allowing you to open it in the future.